Handy Fiber Laser Welder
A few months ago, we reported our visit to AMADA Kansai Technical Centre for seeing their laser welders.
( Post : Laser Welder by AMADA)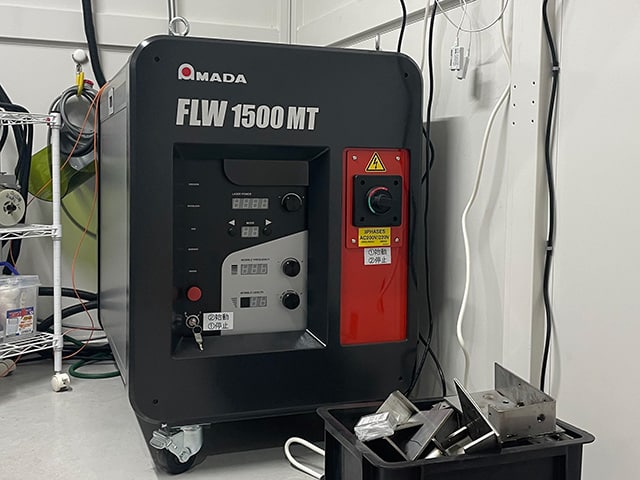 The fibre laser welder, we tried and reported about, came to our main factory a couple of months ago!! (In other words, we bought it)
In this post, I would like to introduce the new machine.
Main Specification
              
Model
      
Handy Fiber Laser Welder
FLW-1500MT


AMADA Product Page

                
Rated Laser Power (W)
      
1500
                
Maximum Laser Power (W)
      
2500
                
Wavelength (㎛)
      
1.07
                
Partition
W × D × H(mm)
      
2832 × 2832 × 2246.4
            
Safety Devices
  
Door Interlock
Wireless Welding Helmet
Nozzle Touch Detection (earth)
Plasma Sensor
       
Features and Advantages
One of the biggest features of this fibre laser welder is that anyone can carry out welding works with a little practice.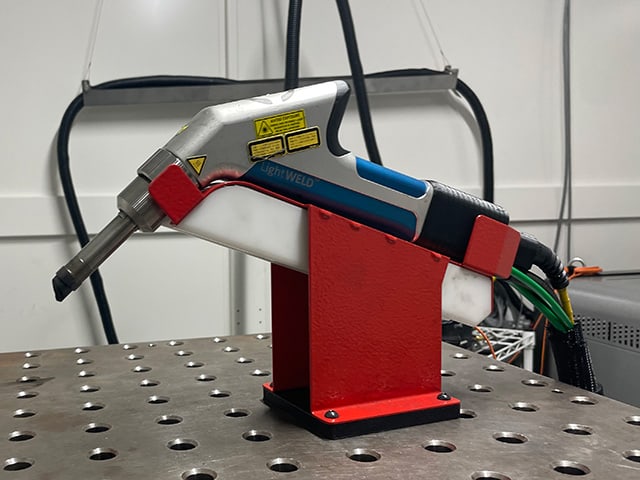 Welding is a skill that requires a long time training to learn among the metal working. Conventional TIG welding, for instance, is said to take at least a couple of years for someone to carry out required jobs on manufacturing. Therefore, it is extremely difficult to find and employ skilled workers. In Kendensha, there are only three workers, including CEO, hold skilled welding techniques and are able to handle difficult welding works.
Although it is hard to guess what is so difficult, one point that helps you to understand is the tip of the welding torch is not touching the base material during the work on TIG welding. Please imagine drawing a thin long straight line or wavy line with a brush with long hair on a specified regular speed, NEVER changing the thickness of the line. Don't you think it must be difficult?
On the contrary, the torch is touching the base material during welding work on this fibre laser welder, therefore your hand is steady. Amazingly, the machine automatically performs the weaving, the technique you have to move the welding torch from side to side to create weave beads on manual work. So clever. You can see the work would be much easier just with these functions.
Apart from those, there are many more advantages. For example, since its little heat effect allows little heat deformation of base material, we could reduce post welding mending. In addition, welding scale has been reduced therefore the burden of descaling has been declined. Furthermore, fibre laser welding enables working thin plates. This contributes to selecting much thinner materials for our products. As a result, the reduction of total CO2 emission from material to finished products is achieved...etc. Please visit AMADA's product page for details.
I asked one of our staff, who started fibre laser welding two months ago from ZERO experience in welding.

Is it easy to use?

I had never experienced welding work but I am getting used to it little by little. It is becoming much easier to work with.

Compared to TIG welding?

On fibre laser welding, there are spots where difficult to weld since its torch is a bit bigger than TIG's. However, on long distance welding, the job is much faster and the finishing is brilliant.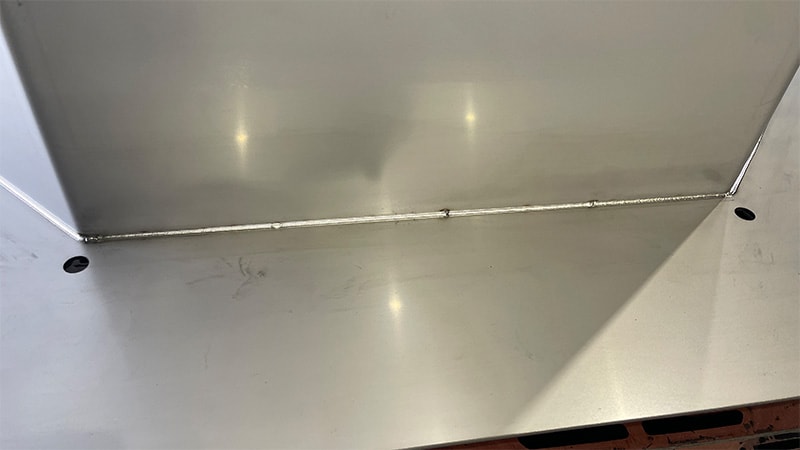 Beautiful!! (tack welds can be seen)
You need years of experience to achieve this finishing on TIG welding.
Featured on The Nikkei Newspaper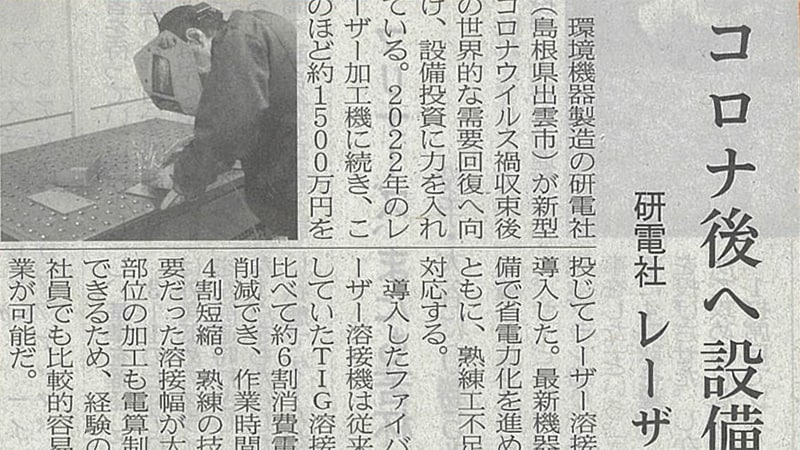 Following last year's fibre laser processing machine installation, this introduction of the fibre laser welder has been featured on The Nikkei.
Link for The Nikkei Digital Edition
Kendensha Investing on Facility for Post Covid19 - Introduced New Welding Machine
We will utilise this fibre laser welder and increase the efficiency by optimizing the production schedule.